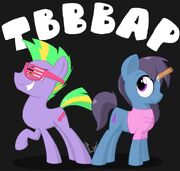 Background
Edit
TBBBAP (or Two Best Brothers Bitch About Ponies) is a web series hosted by two brothers named Phantom Horn and Keg Standard.
(Trivia to be added soon.)
YouTube: https://www.youtube.com/user/TBBBAP
Gaming Channel: https://www.youtube.com/channel/UC6Tb1sIZ199y3ZNDALYwQ4Q
DeviantArt: http://tbbbap.deviantart.com
Patreon: https://www.patreon.com/TBBBAP?ty=h
Twitter: https://twitter.com/TBBBAP
Tumblr: http://tbbbap.tumblr.com
Ad blocker interference detected!
Wikia is a free-to-use site that makes money from advertising. We have a modified experience for viewers using ad blockers

Wikia is not accessible if you've made further modifications. Remove the custom ad blocker rule(s) and the page will load as expected.