"

Keep on eye on those Rainbows, they will make you smile

"
— Blissy's Tagline
Background
Lightning Bliss was a pegasus pony long before she ever joined The Rift Cafe, being a fan of the Generation 1 series since she was a little filly. She was made with those large ears and odd lion like tail from the very beginning. She changed her OC into an alicorn later on after special events that took place into her life that she felt the need to express that into her OC. After investing her time and artwork to others whom requested it, she soon later on started up the Lightning Bliss Show, after she felt the need to express herself about the MLP:FiM series through her own imagery, and animation capabilities.
After the release of her first episodes she contacted DrWolf in the hopes to do a collab with him one day, where she was than invited to The Rift Cafe after showing her abilities in animation and editing in 2014. Lightning Bliss has a nasty tendency to use alicorn magic recklessly since she doesn't know how to control it. It's not uncommon that she'll crash into other ponies channels by traveling on rainbow magic, usually harming herself if she tries to push her limits in spell casting. It's not unusual she'll be walking along the Rift Cafe hallway to find talented unicorns or alicorns (if there) to help teach her to control her magic. Needless to say she and her teachers are in for some rough and hilarious magical mishaps.
Then sometime around 2015, after the fall of the Second Rift, Lightning Bliss joined the Secret Rift Cafe, calling it her new home in regards to the brony analysis community. Though she still uses the assets of the old Rift Cafe and considers it a fictional home, friendship wise she's more comfortable in the Skype call of the Secret Rift.
Her blissful personality and smiles of seeing the rainbows keep her going in her reviews and collabing with others, and she takes great joy in working alongside others!
Trivia
When Bliss first started her channel it was originally listed as EDK180 or EDK Productions. It started out as a channel to host her animation portfolios and videos of her pet rats!
Lightning Bliss watched the very first My Little Pony movie known as "Escape from Midnight Castle" almost three times a day since she was 5yrs old!
In Dec 14th, 2013, Lightning Bliss was married to her loving Trekkie husband. Who ironically she met, not through the Brony communities, but from her favorite game: "Aliens vs. Predator 2"!
Though she may be small, she has a huge family! Lightning Bliss is the third daughter out of six children, having two elder sisters, two younger brothers and her baby sister. Three of her siblings have children of their own, with a total of two nieces and four nephews! Not including her step brothers and their kids!!!
Aside from MLP:FiM, Lightning Bliss also is a huge Alien and Predator fan. She also enjoys watching Star Trek with her husband, The Walking Dead and The Big Bang Theory!
Rats are her favorite pets, and Blissy films them from time to time on a sub series called 'Rat Cam'.
EDK stands for Extremely Dangerous Kritter.
Lightning Bliss appeared as a contestant on episode 10 of the brony game show "My Little Millionaire", where she won 32,000 bits.
See Also
Links
YouTube: https://www.youtube.com/user/e1d2k
DeviantArt: http://edk180.deviantart.com/
EDK Productions: http://emilyreddragon.wix.com/edkanimator
Gallery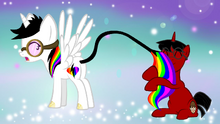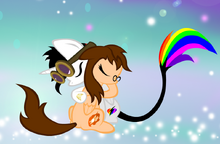 Ad blocker interference detected!
Wikia is a free-to-use site that makes money from advertising. We have a modified experience for viewers using ad blockers

Wikia is not accessible if you've made further modifications. Remove the custom ad blocker rule(s) and the page will load as expected.